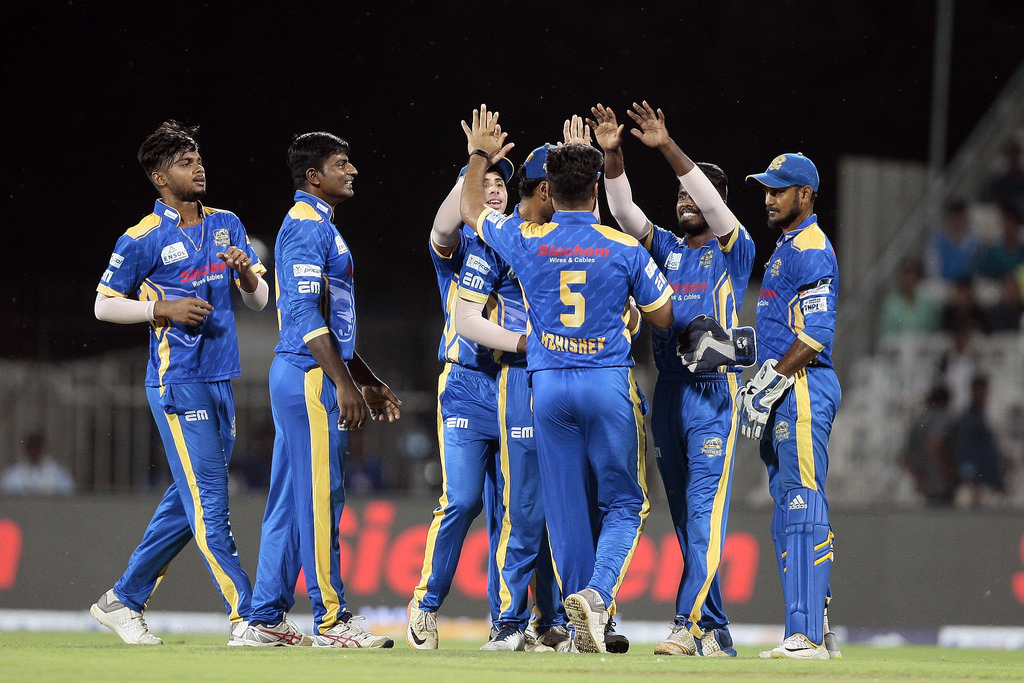 We caught up with the victorious Siechem Madurai Panthers on Sunday, Aug 12, after they won the 2018 Sankar Cement-TNPL final against Dindigul Dragons at the M.A.Chidambaram Stadium. Here is what they had to say..
Siechem Madurai Panthers Owner Damodaren
"I feel very happy that the team that hadn't won a single game in the previous two seasons clinched the title this year under our ownership. We wanted to bowl first because the wicket was damp owing to rains in the past few days. And as planned we chose to bowl after winning the toss. So, the toss played an important role in our victory.
"In Dragons innings, 6 wickets fell in quick succession which gave us a lot of confidence. Had we not dropped catches we could have got them all out much earlier. However, us losing 3 wickets in the first over did shake the confidence but in-form opener Arun Karthik and Shijit Chandran's outstanding batting helped us cross the finish line. Also, Abhishek Tanwar, Lokesh Raj and Varun Chakravarthy's brilliant bowling helped us in pulling off this victory.
"At this moment, I'd like to thank and appreciate the coach, the support staff and the management for making this happen."
J ARUNKUMAR – COACH
On the win…
I am extremely pleased for the boys. We came as the underdogs and then to win the championship is not a simple thing, it's a great moment for me as well as the team. They started with very little confidence but, the way they backed themselves and took the ownership to win is incredible. It's been a great journey and a good venture for me.
On the 2018 Sankar Cement-TNPL…
The quality of cricket played here is fantastic. I have seen so many young cricketers who have succeeded and were selected for IPL like Jagadeesan and Natarajan. Tamil Nadu has many talented players and it is a very good platform for them to showcase their talent. It is a fantastic tournament, hope it keeps on growing.
D.Rohit (Captain)
Unbelievable emotions. For the first two years, we had not won anything and this year to come back this way with the trophy is special. What I am feeling right now is unreal and credits go to the way Shijit Chandran and KB Arun Karthik played. Whatever we have achieved this year it's for them.
KB Arun Karthik
It feels really great. We didn't win any game in the previous two seasons and the way guys fought this year after the first loss to Dindigul and in the playoffs, it was amazing. This win means so much to us.
Shijit Chandran
Very happy that finally, Madurai has won. We have worked hard for this win. I am very emotional now and I have no words to express how I feel.
Rahil Shah
It feels great to win the tournament. Shijit and KB signing it off has made it even more phenomenal.
Abhishek Tanwar
It's been an amazing journey this season. Last two years we didn't win a single game and it feels really great to be the champions this year.
Thalaivan Sargunam
It feels great because, to be frank when we started this journey our target was to win just a single game. We were the underdogs and we took one game at a time and it feels good to be on the winning side.
Varun Chakaravarthy
This is my first championship win and I am really happy about this. We have been training hard and we were working for this since past two months and I am really happy to be here and I am out of words to explain my feelings.